Periodically throughout the year, our network team is able to push updates to your computer automatically. Please follow these instructions to download and apply these updates.
Step 1: Awareness of Updates
You will receive information via email from our Technology Department or will see a pop-up telling you that updates are ready for your computer. This will be the first step in determining that updates are available for you.
Step 2: Open Software Center on Your Computer
Click on the Windows button on the bottom left of your computer screen and search for Software Center (see below).
Step 3: Install the Updates
Go to the Updates Tab on the left and choose the "Install All" button to install all updates (see below).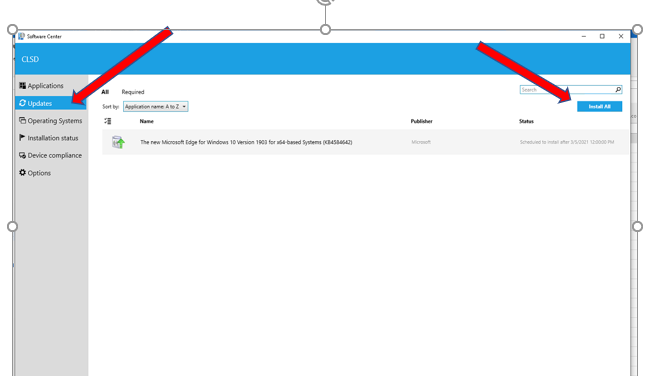 Step 4: Restart Your Machine When Prompted (or Wait Until a More Convenient Time)
The updates will download in the background. You can continue working while these updates are downloading. When the updates are finished downloading and are ready to install, you may be prompted to restart your machine. You can choose to restart your machine at a later time that is more convenient for you (unless you miss the deadline for updates).
All computers that did not install the updates prior to the deadline will automatically install the updates for you and may for your computer to restart right away. To prevent this from happening, please try to stay on top of these messages that are sent from the technology department.